An industrial name that is trusted by technicians, engineers and industrial players with pride, we, Steptrone Automation have become the most dependable names in the global electrical industry. In the year 2017, we started working as a manufacturer, exporter and trader of Single Electric MCC Panels, MS Distribution Panels, Power Control Panels, LT PCC Panels, ABB Variable Frequency Drives, ABB Switchgears, APFC Panels and a host of other products. In a short span of five years, our business unit has successfully managed to earn customers loyalty and trust by delivering value for money electrical and automation products.
In our entire span of existence, we have never delivered any low-grade product to customers and it is the result of this factor that we are most cherished by all scales and types of companies. Our offered products are perfect in every sense. They are easy to use, have robust structure and are absolutely defect free. By delivering such finished electrical products, our brand has become a trusted Manufacturer, Service Provider, Wholesaler, Distributor, Supplier and Trading Company in the global market. It wouldn't have been possible without the support of our proprietor, Mr. Hardik Kapupara, his hard work has motivated our group to do better. We plan to work with same dedication in the future.
Our Commitment- Supply of Quality Products
Quality that is unbeatable in market is what we offer to our customer family.
Quality, the most integral part of our offerings has been the prime concern of our business since our incorporation. Over the period of our operation, we have consistently worked hard to ensure that our offerings comply with the high quality standards of the Industrial Electrical Sector. To make sure that our offerings such as
Single Electric MCC Panels, Power Control Panels,
MS Distribution Panels and
LT PCC Panels,
are at par with such standards, we have established a quality control unit in our Gujarat based facility. In this unit a team of zealous inspectors check if our products matches the level of excellence that we promise. The finished electrical products are checked one by one to detect and eliminate any sort of defected article prior to their dispatch.
Our Value Proposition
We offer excellence at clients doorsteps.
Since 2017, we have constantly directed all of our efforts towards the betterment. We try to deliver them with not just their needed electrical products but also strive to meet their quality expectations. Some of the major things that we offer to our precious customers base are listed below:
Great inventory of quality accredited Panels and other electrical products.
Advanced in-house quality inspection facilities for rigorous quality control
An exceptional customer support to our valuable patrons across the world
Technical support to patrons associated with our brand
Timely conveyance of ordered goods
Our Solution Partners
We proudly and delightfully boast of our association with leading industrial names, some of which are as follows:
Crouzet
Delta
Hitachi
LappKabe
Mean Well
Mitsubishi Electric
Molex
Omron
Pro-face
ProSoft Technology
Rockwell Automation
Samkoon
Siemens and many more.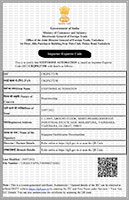 Read More